It's been a big week for me so far, because I took down and put away all of my Christmas decorations all by myself, including the faux tree. I feel incredibly lightened up by having that task out of the way. For several weeks the tree and its lights burning all day and night cheered me up as I was recovering from sickness and deep winter, but one day the
top third was not lit anymore. I unplugged it, and after that, it became a chore needing to be done, which is possibly the opposite of cheery, until one gets into it, at which point it might become energizing and satisfying.
When the family was together at Christmas, evidently someone added a most natural ornament without asking me, because I was surprised to find among the branches a dried pansy, and it was a welcome late gift, bringing as it did memories of that rich couple of weeks.
I paid a man to level my fountain and clean it, and I watched as he lifted off the top and emptied the pipes of so much green stuff! I realize now that every time over the last four years that I have let the algae get away from me, by not putting the drops in every week, all the cleaning out I have done trying to remedy the situation has been woefully supe
rficial, even if it did take a long time. I must become more diligent. When he finished he asked me how fast I wanted the flow to be. I said "low" and he set it so, but it seems fuller and faster than ever.
This year when I renew my driver's license I have to take the written test. I started on that too late to get an appointment at the DMV, so I need to pick a day and wait in line. I've decided this will be the week for that as well. I got the handbook and have been taking practice tests online, and I'll be ready. But I'm very annoyed by all the questions about the penalties for breaking laws. It doesn't say anything about my driving skills if I can't remember how many months or years I might be jailed for evading the police or for drunk driving, first or second offense, etc.
A few days ago when I was musing about my lack of yellow clothing, I did remember a scarf that I inherited that has some yellow in it. Have you ever seen anything like this?
It shows a hundred years of American soldiers and sub-groups of armies, starting with George Washington at top left. I can't think of a proper occasion to which I might wear it, even if I were a militaristic woman.
Maybe Glad ancestors were among the American fighting men in that century, I don't know. But I do know that one branch of my late husband's people came from Ryegate, Vermont, and are mentioned in this book, first published in 1913. This morning my eldest, Pearl, asked me if I had a copy, and what do you know, I had two on a high shelf. I packed them up and sent them to Wisconsin so she can explore further what are her people, too.
This is turning out to be a gathering of historic tidbits; here is an article about the word till. Did you think maybe it should be 'til? Not at all. 'til is a modern invention. I was oddly happy to know this fact. You can learn about the history of till here at Daily Writing Tips.
THE COLOR BLUE has always been my favorite, so when Leila shared this link about its history on her blog Like Mother, Like Daughter I went straight there and drank in all the blues – and I feel so rich, not being colorblind. How could there be new blues being invented? Of course, there are infinite blues, but whether we can find a dye or an ink that paints them must be the question. Here is just one recent blue, from the article, named International Klein Blue: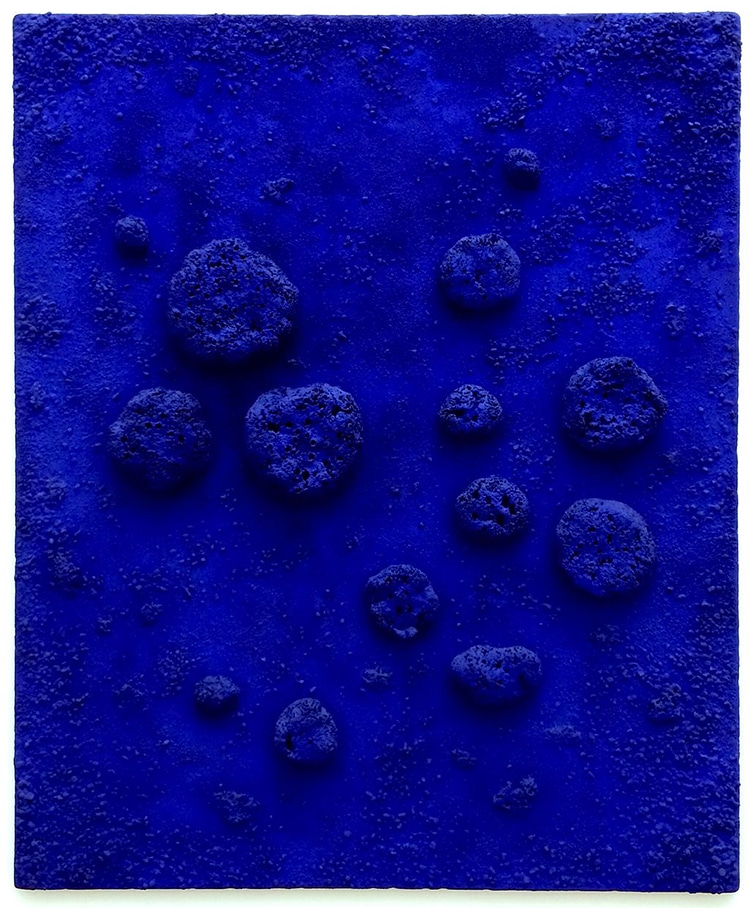 As much as I love blue, I'll leave you with a picture of one of my otherwise tinted Iceland poppies in the front garden. They have been waving to the neighbors who walk past, and to me when I come home from my errands. And most of them are the color that I love in my garden especially: orange.
Oh, but thinking about the garden reminds me that I have learned enough Spanish that I was able to text to my gardener this week: "Puede trabajar aquí este fin de semana?" (Can you work here this weekend?) And he came even sooner. 🙂