I love the little skippers. I had forgotten until I looked it up again just now, that the type playing among my salvia flowers is the Fiery Skipper. Which makes me think I should mention the currently fiery conditions in California. I am glad to tell you that my situation is still low-risk. But the smoke has been more constant the last week; I suppose it blows in here from various fires, but I don't keep abreast of their details on even a daily basis. I just looked for an update, but there are so many burns making up the various fire complexes, it's a lot to keep track of. Especially when acronyms generally are so hard for me to remember.
When I start to look up the fires in the Santa Cruz Mountains, I cannot for the life of me remember that those are not part of the SCU Complex, but rather the CZU Complex. "The SCU Lightning Complex Fire is composed of 20 separate fires in San Joaquin, Stanislaus, Santa Clara, Alameda, and Contra Costa counties." The LNU Complex spreads over six counties. See how it is? And I haven't tried to learn anything about the fires beyond those three, in other parts of our huge state.
Wines of the 2020 vintage from northern California might be interesting: "The early fires pose a threat if they persist and heavy smoke blankets the region for several days before grapes are picked. That can lead to 'smoke taint,' an undesirable burnt taste in wine made from grapes with skins permeated by smoke."
In some areas, as below, with San Francisco Bay close to the middle, the burn scars are so large they can be seen in satellite images.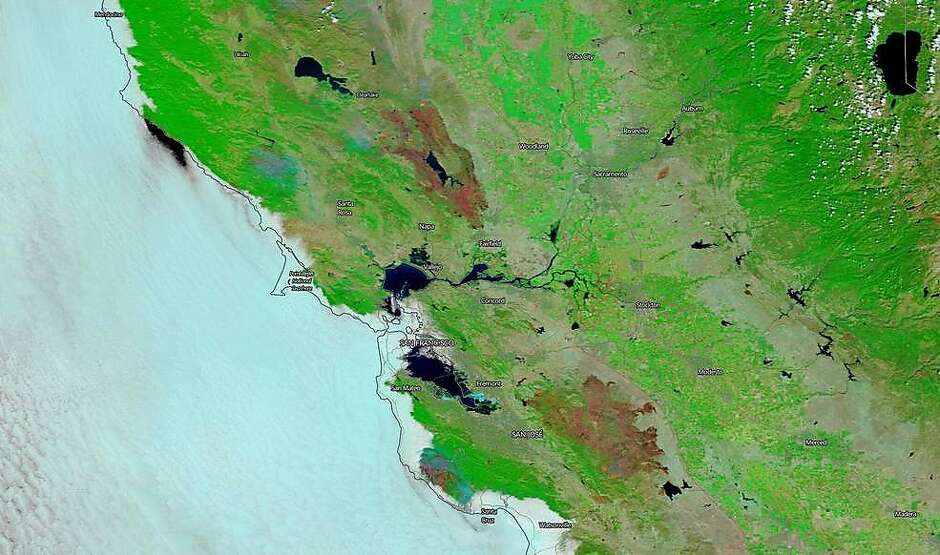 What is it like for the birds and the tiniest creatures when the air is full of ash?
They continue to go about their business, doing their work, but are they slowed down by the smoke? Are their lives shortened? They don't worry about longevity; they just keep going until they are struck down.
A man in my church lost his house in a fire near Lake Berryessa. He had sold it only three weeks before, but was still living in it. All of his belongings burned. He said he was very glad that it happened before the new owners had moved in, so that they were his things and not those of people who would have lost all their belongings and their new house. He is a single man and seems to feel content with being completely unencumbered.
I am continuing to do what I do… Last week my neighbor gave me a couple of quarts of strawberries that were left over after the food bank distribution that she helps with. They were perfect for making into popsicles. I found my ancient molds on a high shelf in the garage and poured in the sweetened puree. Several grandchildren will be visiting next month and I'll be ready!
Soldier and Joy's family are meeting me in the mountains for a few days, as part of our time together. They are flying to California, so I am trying to bring most of the stuff we'll need in my car. Like books!
The sun will shine and we'll be at the lake a lot… I hope it's not too smoky up there. I also hope we will have thunderstorms, and it will be nice to be cozy and read by the fire. A fireplace fire, 100% contained.